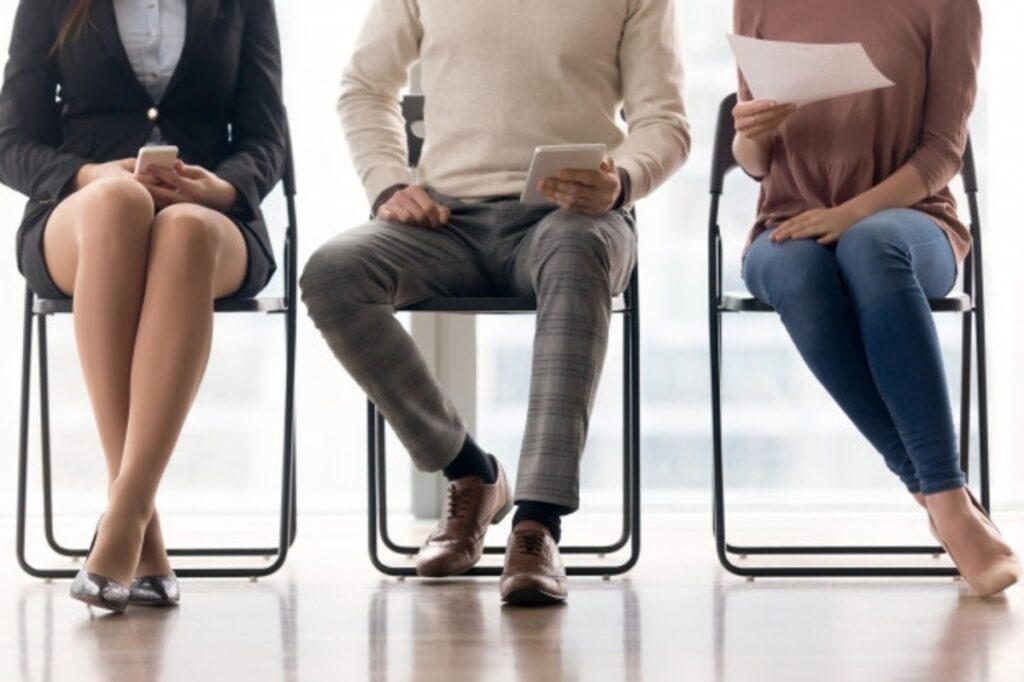 How to stand out from the other candidates
We asked recruitment and career experts what makes one candidate stand out over the others — here's what they said.
If you've been applying to a number of jobs with little luck, it could be that your resume is getting lost in the pack of the seemingly countless other applicants you're competing with. That's why it's all the more important to find ways to distinguish yourself in a compelling way.
So, we asked recruitment and career experts what makes one candidate stand out over the others — here's what they said.
Resumes
Provide a link to your online portfolio or social media profiles.
"Provide recruiters and hiring managers with all the information they need upfront by including a link to your [social media] profile on your resume. There are also options available for housing an online portfolio with past work experience, all of your social media accounts, as well as a resume. An about.me page or a personal website are great options for this. This may seem obvious, but clean up your social media presence before sharing links to it."
— Jason Siegel, director of accounting and finance and health care revenue recruiting at LaSalle Network
Customize your resume or application so it aligns with the job posting.
"I think it's beneficial when an applicant takes the time to utilize the verbiage that is in the job posting in their resume or application. It shows the recruiter that you paid close attention to the requirements and related those requirements to what you did at your current or past employer. Recruiters don't have a lot of time to read through profiles, so when we see that the candidate's skill sets align with the job requirements, it makes us stop and check that candidate out!"
— Christina McPhee, operations recruiter, Oldcastle
Focus on accomplishments and results more than skills.
"Often job applicants put the focus on their skills and their previous positions. The problem with this is that if almost every other applicant approaches it the same way, then there's little chance of any applications rising to the top of the pile. A good way to stand out is to make your accomplishments front and center. When focusing on accomplishments, be specific: How much money did you earn for your company? How much did you save? How many people did you manage? What products did you launch? What programs did you implement? Once you've listed your accomplishments, then support them with skills and positions."
— Trevor Simm, founder and president of OpalStaff and Talos Solutions
Project the right attitude.
"Every legitimate candidate will have a well-established resume. However, to see the charisma and positive energy that an eager candidate carries with him [or her] is a game-changer. On numerous occasions, I have opted to recruit an employee with marginally less experience but with a better drive and passion than another candidate. Some people might question how it is possible to fake an eager attitude, if that's what it takes to get hired. The answer is simple: You simply cannot."
— Trent Silver, CEO of Nerdster.com and millennial career coach
Show how you can solve a problem for the company.
"Find a problem or opportunity that directly affects the company you are applying [to]. Create a blog post specifically outlining how to solve the problem or how to take advantage of the opportunity. Clearly outline the steps the company should take. Then instead of posting it as a blog post, paste it into an email and send it to the person in charge of hiring. Attach a resume, but the resume should just end up being a footnote to the email/blog post."
— Carrie Wood, chief marketing officer, Lease Ref
Interviews
Put your personality on display in a positive way.
"Maintain eye contact, don't fidget and just be yourself. Most companies hire for your personality — not the long list of skills on your [resume]. Be enthusiastic, talk about your ideas, your triumphs and what you learned along the way. Show them you are creative, innovative and unique!"
— Deborah Murray, senior recruitment consultant at Evolution Recruitment Solutions
Give the company a taste of the work you'd do if you were hired.
"[Take the] initiative to show them what having you as an employee would be like. For example, if you are applying for a marketing position you could write up an outline of a marketing plan for their last product launch. For a public relations position you could craft a press release and outreach strategy for one of their newer products. Impress them not only with your initiative, but also with how serious you are about working for them."
— Michele Mavi, resident career expert at Atrium Staffing
Show what you can do for the company in the long term.
"I want people who aren't afraid of the tactical work, but [who also have] a strategic mind. They understand the here and now, but [also] focus [on the] future of the organization. They demonstrate their focus by being able to share what they believe they can contribute to the company within the next two to five years based on what they have learned about the organization through the investor meetings, news, company PR releases, etc."
— Krishna Powell, principal, HR 4 Your Small Biz
Be prepared to discuss salary.
"I know we've only just met, but get comfortable with the salary conversation. I'm going to ask you two questions: 'Where are you at currently for salary?' and 'Where do you want to be in your next role?' Get comfortable. Be specific on those two numbers."
— Sheila Musgrove, CEO and founder of TAG Recruitment Group Inc. and author of "Hired!"
Do your homework.
"It's a breath of fresh air to speak with a candidate who has done a bit of research on our company's history and culture. I appreciate someone who has taken the time to craft their resume specific to the opportunity they've shown interest in and not just submit a generically compiled list of tasks. It shows a recruiter you're not just interested in a job, but a career with us. This stands out better than any gimmick."
Source  Michael Dobreski, corporate recruiter, Oldcastle – Architectural Products Group